I get it. It's cold. Really, I do.
I  live in Canada..northern Canada. That doesn't mean I'm immune to the cold; it just means I've learned to accept the cold and get on with things. (in theory anyway..)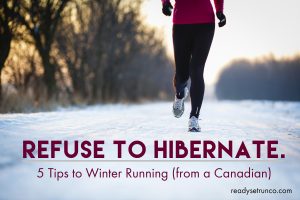 I became somewhat of an expert in winter running a few years ago when I signed up with a team to run a 160k ultra trail run. My portion was 50k. On a mountain. At night. Alone. Longer than a marathon..and I had never run a marathon! The run was in the summer, but I had to train. I was driven by a desire…well, not to die. (which, if you asked my parents, was like a 70% probability.) I found a training program online and made a calendar with the mileage I had to hit each day. It didn't matter if it was -30C (-22F) that calendar was my religion. Here are some things I learned:
You need gear – one of the great things about running as a sport is that besides shoes, you really don't need any gear. An old pair of shorts and a beat up concert tee and you're out the door. This does not hold true in the winter. I hate to break it to you, but you'll need to invest in some proper running clothes to protect yourself. You don't need the latest and greatest high-end stuff out there, but you must have athletic clothing that is designed to wick moisture away. If you start sweating and your clothes get damp, your body temperature will drop. Fast.

I sling these grips on my shoes when it's icy. There are others on the market, but these are small and don't bother me when I'm on pavement.

I once slipped right off the sidewalk and partially under a parked car (pre-ice grip days, of course). A concerned elderly couple pulled over and offered help. Except for my ego, I was fine!

Do not overdress – You know you're going to be out there for a long time and you don't want to freeze so the tendency is to bundle up. This is bad for the reason I just gave above– sweating. Your core temperature rises as you run, and before you know it you'll be sweating and trying to escape that down-filled prison. A good rule of thumb is to dress for a temperature 15 degrees warmer than it is, and be ok with being a little cold for the first few minutes of your run. Besides, I find the cold start to be a good motivator to move my ass. A lot of my PRs happened in the dead of winter.
Do not overlook accessories, though! You want the least amount of exposed skin possible. This means no gap where your socks end and your pants start. Even if you find a hat itchy and uncomfortable, you need your ears covered so get yourself a wide headband. Gloves are mandatory, while balaclavas are optional although highly recommended by yours truly.

Be sure to take that badass selfie with ice crystals hanging off your lashes. It was easily 30C below zero this day.

Do a pre-run warm up – If you really can't bring yourself to endure a few minutes of chill, get into the habit of doing a warm-up routine before stepping outside. Besides stretching, do some jumping jacks or running on the spot to get your motor running.
Run in the Sun – With less sunlight in the winter (significantly so up here in the great white north) this can be a tough one. Temperatures drop dramatically when the sun goes down, and with the added obstacles of snowbanks reducing driver's ability to see you coming and slippery roads, night running can be much more dangerous in the wintertime. If you can't avoid it, make sure you check the temperature just before leaving because it won't be the same as it was all day, and dress appropriately. Wear reflective clothing and a headlamp (which isn't just for helping you see, it helps you be seen), and take extra caution when running past driveways or crossing streets. Trust me on this one…

Tire tracks on my leg after being hit by a truck coming out of a driveway. And proof I really wear ice picks!

Get changed – Don't sit around post-run in your running clothes. I know you're cold, but get out of them quickly and put on something warm and dry. Relax with a coffee or make cocoa with your kids. Mmmm…yup, that's a great feeling 🙂
Bonus Tip:
Its been a long, cold winter and you're excited about the beautifully sunny and warm spring day. You decide to veer off the clear sidewalks and head for your favourite trail– don't. So much regret. Trails need more time to clear up!

Now you know what to do, but how do you stay motivated? The best way I've found is to register for a race. Some cities have winter runs, or you could register for one in the spring/summer that's just beyond your comfort zone. But don't worry…it doesn't have to be a 50k 😉